If you're here looking for gluten free Cinco de Mayo recipes, you've come to the right place. I've got 18 incredibly delicious gluten free recipes here to help you celebrate the holiday or anytime you're craving a Mexican spin for dinner or dessert!
Cinco de Mayo is one of my favorite food holidays. I mean, it's really all about the food, right?
Then again, I do tend to think of my year in terms of food holidays. After Thanksgiving, Christmas & Hanukkah, New Year's Eve, Valentine's Day, St. Patrick's Day, Easter & Passover … next up is Cinco de Mayo and all thoughts turn to Mexican food and margaritas!
Many of us in the Northern Hemisphere think that Cinco de Mayo (May 5) is Mexican Independence Day (like Americans celebrate July 4), but it's not.
The day actually commemorates the Mexican army's unlikely victory over Napoleon III's French forces on May 5, 1862, at the Battle of Puebla. Mexican Independence Day is September 16, in case you needed to know. 
But don't let that stop you from enjoying this sensational roundup of gluten free Cinco de Mayo recipes! Everything from dessert to dinner (most important first, right?), homemade gluten free flour tortillas to margarita cheesecake — I've got you covered!
If you're looking for safe and tasty gluten free beers to add to the festivities, check out my gluten free Beer Tasting Notes. If you want to know why tequila IS gluten free, and what other safe gluten free libations you have to choose from, hop to my article on Gluten Free Beer, Alcohol and Wine.
And don't forget I've got over 470 free, printable gluten free recipes for you here at gfJules.com. Just use the search bar at the top of the page!
Gluten free breads, breakfasts, main dishes, sides, seasonal recipes, soups … anything you're searching for is probably here!
Like this easy recipe for light & airy Gluten Free Churros! Bet you didn't think you could make those at home, did you?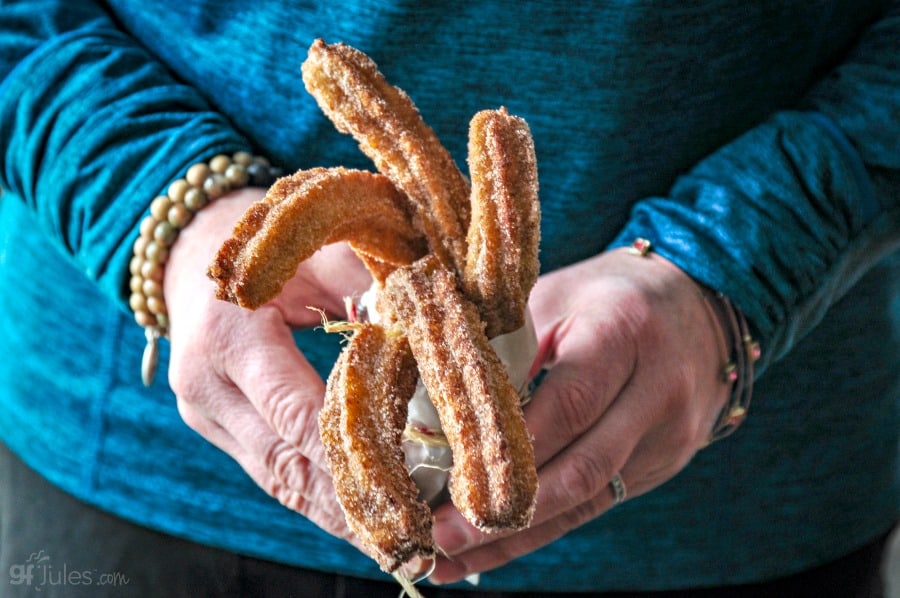 I've also written tons of articles on living gluten free and baking successfully, and of course you can find the best gluten free products all here at gfJules.com.
That's why gfJules.com has been voted the #1 Gluten Free Blog again this year! It's all here for you to discover and use!
Cheers & happy baking!
~jules
Cinco de Mayo
Make this year's Gluten Free Cinco de Mayo the most flavorful yet with so many delicious gluten free recipes to choose from!
Don't forget to pin these great gluten free recipes for later, and search for more yummy gluten free recipes anytime here at gfJules.com. 
If you love these recipes and don't want to miss any other yummy ones, be sure to follow me on your favorite social media: Facebook, Twitter, Pinterest or on Instagram — and hashtag #gfJules or tag @gfJules – I love seeing your yummy recipes, too!